Summer Camp Style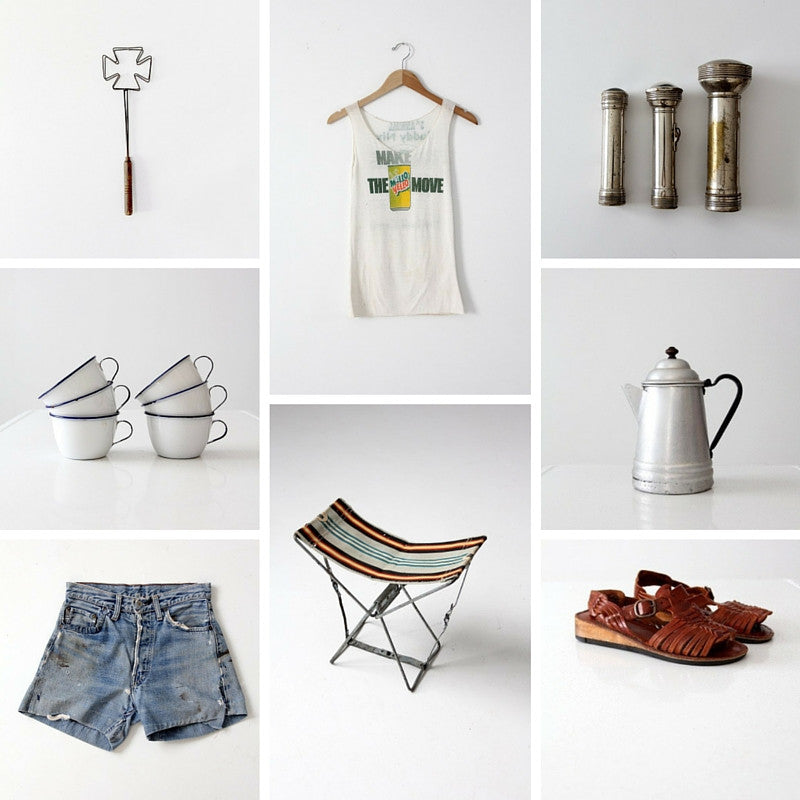 Out in nature, paddling in a canoe, sing-a-longs, arts n' crafts and s'mores around a campfire are the sweet memories of summer camp. Bring a bit of classic summer camp style to your home and look this summer!
A collection of antique flashlights. Early model flashlights to bring back thoughts of exploration and scaring the heck out of your friends with highlighted ghost stories. 

An antique campfire toaster. Place your bread between the cross patee shaped end wires and get the perfect toast!

A great piece to accent a wall with a gorgeous patina to the wood and metal. 

Denim shorts are a must for summer! These pre-1970s Levi's cut shorts have all the right age and attitude.  

For the denim hunters: a pair of Big E, single stitch, red line 501 jeans custom-ed into shorts. 

Antique enamelware cups were a staple for cowboys and home kitchens alike in the 1800s. A classic piece that can ride the trail. 

This set of Swedish enamelware features white enamel with blue trim. 

Shop more enamelware

A tank top promoting Mello Yello and a football camp on back - classic 80s summer tee! 

Extra thin and light weight - ideal for hot August days. 

 

 

 A vintage mini-camp stool. A perfect tote-along chair or easy store away seat for a small space. Great vintage canvas stripe seat with adjustable metal frame. 

 

 

Vintage leather huaraches are a classic summer piece! Woven leather with a wood heel and rubber sole.  

 

Brew up a strong pot of coffee on the stove or over the campfire with this antique campfire coffee pot. 

 

1950s Girl Scout uniform, an American camp history piece. Would make an interesting decor piece for an Americana cabin. 

 

 
Check out our Rustic Cabin collection for more camp style ideas.